The project team
The project has been conceived and directed by Diana Whaley (Emeritus Professor of Early Medieval Studies, Newcastle University) and undertaken by volunteers who share interests and expertise in transcription and various aspects of history. As well as transcribing on a grand scale, project members have given unsparingly of their time and talents in various aspects of processing, checking and enhancing the material. Particular thanks are due to Irwin Thompson, who has shared his IT expertise with extraordinary generosity. We have met regularly to discuss procedures and to share findings; friendships have been formed and many new avenues opened to all of us.
Transcribers are identified by initials at the foot of each page of transcription: AB (Alan Bill), AJ (Anne Jowett), AOS (Oliver Staines), ARJC (Andy Curtis), BER (Brian Edward Reeds), BFR (Byrnice Frater Reeds), BM (Barbara Martin), BS (Brian Stirk), CC (Christopher Coombe), CTW (Chris Walton), CW (Carol White), DC (Dorothy Cowans), DP (Denis Peel), DW (Diana Whaley), EDA (David Allen), HL (Hugh Levey), IKF (Ian Farrier), IST (Irwin Thompson), JG (John Goldsborough), JHS (Janet Stirk), JMcN (John McNulty), JMH (Jane Hughes), JTP (Julian Philipson), JW (Jan Widmer), KF (Kevin Futers), LCA (Linda Allen), LF (Lynne Farquarson), MB (Martin Bell), MCB (†Matthew Ball), MEM (Malcolm McCallum), MP (Michael Powell), PAF (Penny Ford), PF (Pam Farrin), PT (Phil Thirkell), PW (Paul Wright), RP (Rob Pearson), RS (Richard Simmance), SCS (Sue Shaw), SMH (Sheila Hingley), SW (Sue Ward), SW2 (Stuart White), TH (Tony Hyde), VG (Val Glass).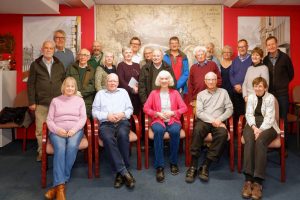 All contributions, large or small, and whether undertaken 'solo' or in pairs, have been greatly appreciated. It is right, though, to acknowledge some individuals who have undertaken heroic amounts of transcribing or checking: Phil Thirkell, Christopher Coombe and Chris Walton (over 1000 pages each), Sheila Hingley, Paul Wright, Pam Farrin, Andy Curtis, Kevin Futers and Tony Hyde (over 700 pages each), and Denis Peel, Sue Ward, John McNulty, Byr Reeds, David Allen, Lynne Farquarson, Brian Reeds, Diana Whaley and Jan Widmer (over 300 pages each).
Heartfelt thanks also go to Ian Whaley for taking thousands of digital images at The National Archives, Kew (together with Diana Whaley, with Christopher Coombe kindly stepping in to fill gaps); and for generous help with administrative tasks, checking etc., especially to Irwin Thompson (mentioned above), Phil Thirkell, Andy Curtis, Chris Walton, Christopher Coombe, Oliver Staines, David Allen and Sue Ward. Sue is also to be thanked for advice and encouragement on the basis of similar transcription projects, and Andy for working on exciting ideas for further developments. Finally, we are most grateful for the skill and patience of the webmaster, Roger Cornwell of Cornwell Internet, in designing and programming this website and thus completing the dream of making the material accessible to all.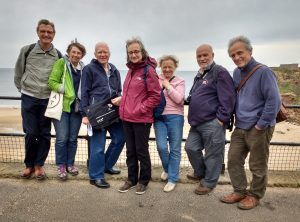 Walking with the Name Books – some project members at Tynemouth
Funding and partners
The website has been made possible by a generous donation to the English Place-Name Society from Professor Jim Wilkes and Mrs Mary Ann Wilkes, and we are extremely grateful to them, and to the Society of Antiquaries of Newcastle upon Tyne and the Catherine Cookson Charitable Trust for supplementary funding. All other work has been on an entirely voluntary basis.
We are also grateful to be in partnership with The Joseph Cowen Lifelong Learning Centre (Newcastle upon Tyne), who have made their premises available for meetings and through whose Explore programme many of the volunteer transcribers have been recruited. Special thanks are due to Joy Rutter of Explore and Peter Marchal of Ampersand Inventions.
Other volunteers have come to the project through the Society of Antiquaries of Newcastle upon Tyne, Altogether Archaeology (North Pennines), Revitalising Redesdale and the St James' Heritage & Environment Group, Benwell, and the Name Books project is immensely grateful to these groups for their support and interest, and to those who have made the cooperation possible, especially Rob Pearson, Andy Curtis, Karen Collins and Judith Green. Andy also acted as an invaluable mentor and checker for the work on the sprawling upland parishes of Allendale and Elsdon.
We gratefully acknowledge advice and assistance received from the staff of: The National Archives, Kew; The National Records of Scotland, especially Robin Urquhart; Newcastle University Library (especially Geraldine Hunwick) for an archivist-led training session on paleography and relevant printed sources; the English Place-Name Society; and Drs Eila Williamson and Simon Taylor of the University of Glasgow.