How to use
Whether you are interested in a place, a person, or a topic such as pubs, schools, quarries, shipwrecks, Roman antiquities or dialect words in place-names, we hope you will find some leads and fascinating details within the Name Books. The documents do not set out to be a nineteenth-century Domesday Book or a detailed Census or Directory, but they do give a marvellously comprehensive overview of the Northumberland of c. 1860 and complement more specialized sources.
Click any of the headings below to show the content. Click again to hide them.
How to use this website
BROWSING
The BROWSE function takes you to the index for each Name Book (normally covering one parish), and the Indexes collectively contain approaching 20,000 names (or 'Objects' such as Post Office or School). Simply click on place-names or page numbers in the Index to go to the relevant entries in the transcriptions. From there you can consult the original images, and this is recommended especially where detail is important.
SEARCHING
The SEARCH function enables you to search for strings of characters e.g. Holy Island, knowe, wagonway or William Robson, and there are several options to enable you to refine your search – it's worth experimenting with these.
It is also worth bearing in mind that spelling may vary, especially in personal names (e.g. Whelan/Whellan; and forenames are often abbreviated), but also place-names (Walbottle/Wallbottle, or names with Lynn/Linn) and words (e.g. color/colour, wagon/waggon). The wild card * can be useful in these cases.
The Search results appear in rank order according to the number and relevance of matches and provide clickable links to the relevant books and pages. Occasionally the matches are in the Notes and hence not visible on the screen until you 'hover' your cursor over the red box. Where the matches found are very numerous, the number displayed may be limited. This can be mitigated by searching individual columns rather than 'All', or it is possible to obtain a login which gives you access to fuller results. Please Contact Us to request this.
IMAGES
The images are not fully 'zoomable' at present and are uploaded at lowish resolution to reduce overall capacity. Please see below for Conditions of Use and Copyright.
LOCATING PLACES
Some search results add possible georeferences, with links to Second Edition OS maps, at the foot of the page. These are selective and experimental at present, since georeferencing is a highly complex undertaking. Meanwhile, other aids to location include the parish divisions adopted by the Ordnance Survey (shown on the sketch map below); online place-name searches, e.g. on Streetmap (though of course many names are far from unique); and the Sheet/Plan numbers that appear in the headers or Situation columns of many pages. An invaluable collection of First Edition and subsequent OS maps can be found digitised on the National Library of Scotland website, and are searchable by Grid Reference or place-name, or by clicking on a zoomable map.
Parish divisions as adopted in the OS Name Books
Base map adapted from Wikimedia Commons (Creative Commons licence); parish locations based on OS First Edition Six Inch maps and C. Humphery Smith, Atlas & Index of Parish Registers.
Parish abbreviations & explanations:
BED – Bedlington, BLY – (Town of) Blyth, BOL – Bolam, BRI – Brinkburn, BSA – Bywell St Andrews, BXN – Branxton, CAR – Carham, CHA – Chatton, CHI – Chillingham, CRA – Cramlington, DOD – Doddington, EDL – Edlingham, ELL – Ellingham, HED – Heddon on the Wall, KHL – Kirkharle, KID – Kidland, KWT – Kirkwhelpington, LAM – Lambley, LBN – Longbenton, LES – Lesbury, LHL – Longhorsley, LHT – Longhoughton, LOW – Lowick, MEL – Meldon, MIT – Mitford, Newcastle = Newcastle All Saints, Newcastle St Andrew, Newcastle St John, NSH – North Shields, RAM – Ramshope, SHI – Shilbottle, [SHO] – Shotley (Name Book 'missing at transfer'), SHO(D) – Shotley (Detached), SJL – St John Lee, SLA – Slaley, STA – Stannington, THO – Thockrington, WDH(D) – Woodhorn (Detached), WHA – Whalton, WHI – Whittingham, WLR – Wooler, WSD – Wallsend, WTF – Whitfield.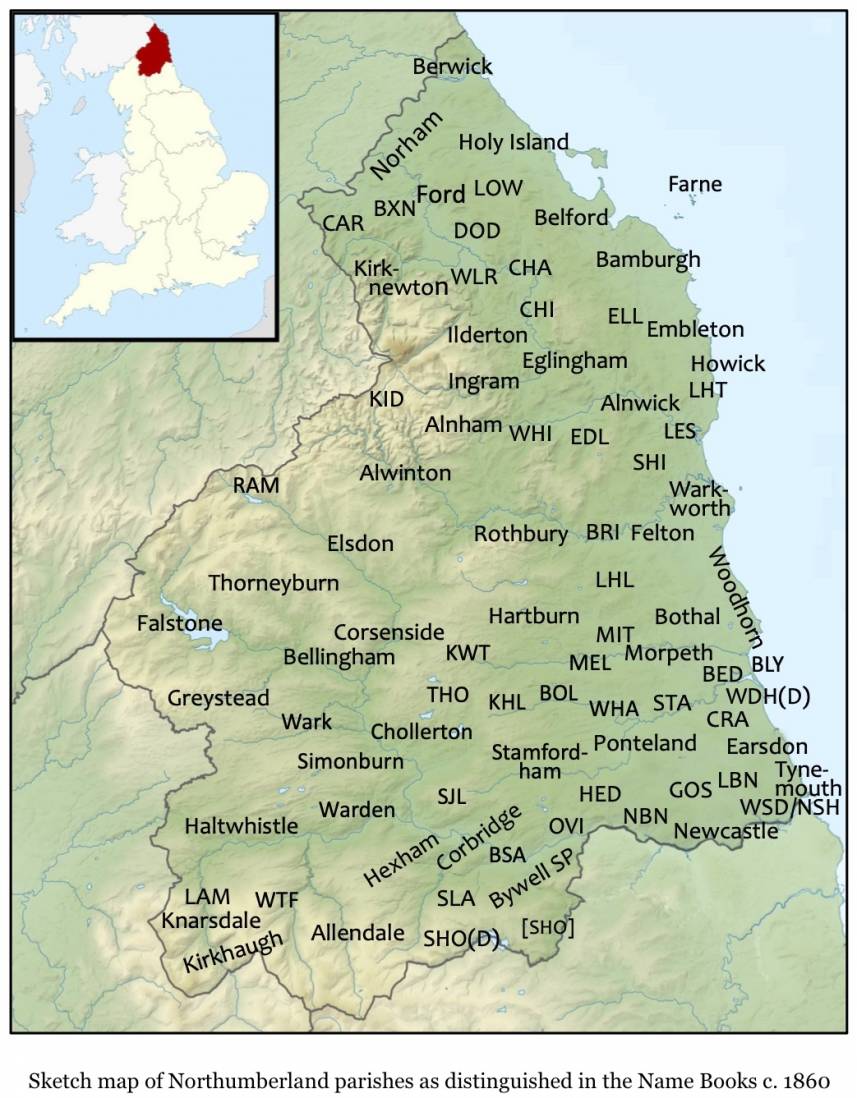 Possible research topics
If you are interested in a particular area
BROWSE may be the best starting-point, taking you to places within parishes. The 'Descriptive Remarks' in the final column of each entry are often revealing, and sometimes go beyond simple objective description.
It's worth bearing in mind that:
the parishes are those of c. 1860
spellings may differ from current ones
some features such as streams or hills on boundaries may be covered in an adjacent Name Book
the indexes are not entirely complete
For these reasons it's always worth also doing a SEARCH for places you are interested in.
If you are interested in individual people
SEARCH will be your best starting-point (though at present Search results will tend to be over-inclusive). Thousands of individuals appear as 'Authorities' for the place-names and others, especially owners and occupiers of properties, are mentioned in the 'Descriptive Remarks'. Many place-names contain personal names (e.g. Eppie's Hill, Kitty Brewster's Farm or Crutchy Tommy's Plantations), though usually the individuals commemorated cannot be identified. Points to bear in mind here are:
people selected as Authorities tend to be male and educated
the surveyors produced some inconsistent and incorrect spellings
these names are the most difficult part of the documents to decipher and transcribe.
You may therefore need to experiment with alternative spellings when Searching.
Other possible research topics
Besides place-names and family history, many other topics could be investigated including:
Aspects of history such as:
the local history of villages, suburbs or parishes; land ownership and tenure; agrarian history (e.g. land use before and after enclosure; woodland); buildings history; industries old and new; infrastructure, transport and communications (ports; responsibility for roads & bridges; turnpikes; wagonways; railway lines and stations; post offices); education (location, funding and running of schools); places of worship (including diverse non-Conformist denominations); leisure (football, bathing, spas, libraries); public houses.
Language, e.g.
dialect words in the place-names recorded, and the surveyors' comments on them; the style, vocabulary, spelling and punctuation of the surveyors.
Or, with the emphasis on the survey itself:
perceptions of landscape; recording of archaeological sites; class sensibilities; use of female informants; language used by the surveyors (levels of literacy; 19th century spellings and usages; any traces of Irish?)
And the sources used by the survey:
What maps, registers, gazetteers and directories? What historical works? How is land ownership vouched for (in Alnwick by a solicitor)?
Practical benefits of the Name Book evidence might include:
Background on buildings and sites for Estate Agents; previous land use for those conducting environmental and contaminated land desktop surveys.
About the transcription
The transcription is the product of thousands of hours' work by some forty dedicated volunteers, and covers all 104 Northumberland Name Books. Working to shared guidelines, our aim has been to be as accurate and consistent as possible within a reasonable timeframe, but given the size and complexity of the task there will be inevitably be mistakes and minor inconsistencies, and where detail is important users are strongly advised to check the original images as well as the transcriptions.We have sought to represent the content and layout of the original Name Book pages as faithfully as possible while at the same time producing a text that will be optimally searchable, since searchability is a major reason for transcribing; we have aimed for the best compromises on particular points. Some important illustrations of these principles are the following.
Layout
The layouts of pages are preserved quite faithfully, but with some important exceptions:
The surveyors occasionally annotate the 'Names' column with extras such as cross-references, second thoughts or instructions to engrave a name 'in German text' or 'Old English' (types of Gothic) or similar, but in the transcription this column is reserved for names, while the extra text appears in a Note.
Most individual pages carry the signature of the surveyor responsible, usually at the bottom right but in northern parishes in the header; in the transcription signatures always appear at bottom right.
Notes
The presence of a Note is shown on the website by a red box around the cell concerned; the Note will appear when the user hovers the cursor over the cell.
Abbreviations
The most common abbreviations, such as Mr, Revd and compass directions, are transcribed exactly as they stand, and not expanded. For all other abbreviations we have, where necessary, standardised them slightly, e.g. typing PH, P.H. or P. H all as PH (= Public House), and tagged them so that they are recognized by the software and expanded when the user hovers the cursor over them. If automatic expansion fails for any reason, the tagging ($…$) will be seen.
Deletions and insertions
The surveyors frequently correct their own work, or each others', by deletions and insertions. Deletions are shown in order that valuable material is not lost, but insertions not, since most of them are unimportant corrections, and not worth the extra effort for transcribers. Where detail is crucial, however, e.g. in spellings of names, users are advised to check transcriptions against originals.
How to reference the Name Books
The following is offered for guidance to anyone wishing to refer to the books when publishing online or in print; the formats adopted will depend on context, medium and audience.
As a whole
'Ordnance Survey Name Books' at first mention, then 'Name Books' or 'OSNBs'.
Referring to individual books, pages and entries
These formats apply equally to images and transcriptions.
Within discussions
Use, e.g., 'Cullercoats (Tynemouth 23)'
I.e. head-name of entry (parish + page).
In the case of multi-book parishes, the 3-digit OS reference is added, e.g. 'Steel Rigg (Haltwhistle 374:192)'.
In footnotes or references:
'The National Archives: OS 34/422/23' at first mention; thereafter abbreviate 'The National Archives' to 'TNA' or leave out.
I.e. OS 34 (catalogue number for [First Edition] OSNBs for England) / 3-digit OS reference specifying book (parish or part of a parish) / page number, hence OS 34/422/23 is p. 23 of Tynemouth.
Combined references
E.g. Cullercoats, Tynemouth (OS 34/422/23).
Referring to transcriptions
The formats above can be used for both images and transcriptions.
If referring to transcriptions as a whole, add: 'transcriptions at http://namebooks.org.uk, accessed [date]'.
If referring to specific page(s), add: 'transcription at  http://namebooks.org.uk/browse/main/?OSref=382&Page=4, accessed [date]'.
Please Note
You are advised always to check transcriptions against original images.
If using images please be sure to observe the Conditions of Use:
Conditions of Use and Copyright
© Images reproduced by permission of The National Archives, London, England.
The National Archives give no warranty as to the accuracy, completeness or fitness for the purpose of the information provided.
Images may be used only for purposes of research, private study or education.  Applications for any other use should be made to The National Archives Image Library, Kew, Richmond, Surrey TW9 4DU, Tel: 020 8392 5225   Fax: 020 8392 5266.
http://www.nationalarchives.gov.uk/imagelibrary/
Images of the Berwick Name Book, OS1/5/1 in the National Records of Scotland, Edinburgh,  should be acknowledged with:
'Crown copyright, National Records of Scotland' preferably plus the image reference.
Further reading
Works cited in the Name BooksBrockett, John Trotter (1829), A Glossary of North Country Words (Newcastle: Charnley) [Editions of 1825 and 1846 (2 vols) exist, but 1829 appears to be used in Name Books; some references do not match any edition]
Jamieson, John (1840–1), An Etymological Dictionary of the Scottish Language, 2nd edn, 2 vols (Edinburgh: Tait)
Johnson, Samuel (1755), A Dictionary of the English Language [uncertain which edition used]
MacLauchlan, Henry (1852), Memoir written during a survey of the Watling Street: from the Tees to the Scotch Border (London: Office of the Archaeological Institute) [Cf. 1864 Memoir … of the Eastern Part of the Watling Street; NB Watling Street = Dere Street]
MacLauchlan, Henry (1858), Memoir written during a survey of the Roman Wall (London: private printing)
Parson, William & William White (1827–8), History, Directory and Gazetteer of the Counties of Durham and Northumberland (Newcastle: White & Co.)
Whellan, William (1855), History, topography and directory of Northumberland (London: Whittaker & Co.)
White, William (1847), General Directory of […] Newcastle-upon-Tyne […] (Sheffield: White & Co.)
Works cited in the Notes to the transcriptions
Co-Curate <https://co-curate.ncl.ac.uk/>
EDD —The English Dialect Dictionary < http://eddonline-proj.uibk.ac.at/edd/index.jsp>
Geograph <https://www.geograph.org.uk/>
Keys — Keys to the Past < http://www.keystothepast.info/>
OED — The Oxford English Dictionary < https://www.oed.com/>
ScotlandsPlaces < https://scotlandsplaces.gov.uk/>
Publications on the Northumberland Name Books
Whaley, Diana (2016 (2017)), 'Northumberland Name Books — places and people c. 1860', Journal of the English Place-Name Society 48, 92–95
Whaley, Diana (2020), 'Northumberland through the eyes of the gallant Ordnance Surveyors, c.
1860', The Northumbrian 176, 14-19
Whaley, Diana (forthcoming), 'More than Mere Burns and Black Laws:
Process and potential in the Northumberland Name Books c. 1860'. Currently submitted for publication.
History of the Ordnance Survey
Andrews, J. H. (2002), A Paper Landscape. The Ordnance Survey in Nineteenth-Century Ireland, 2nd edn (Dublin: Four Courts)
Hewitt, Rachel (2010), Map of a Nation: A Biography of the Ordnance Survey (London: Granta)
Oliver, Richard (1993), Ordnance Survey Maps. A Concise Guide for Historians (London: Charles Close Society)
'Ordnance Survey History' — https://www.ordnancesurvey.co.uk/about/history
Owen, Tim and Elaine Pilbeam (1992) Ordnance Survey. Map Makers to Britain since 1791 (Southampton/London: Ordnance Survey/HMSO)
Seymour, W. A. (ed.) (1980), A History of the Ordnance Survey (Folkestone: Dawson) <https://www.ordnancesurvey.co.uk/documents/resources/os-history.pdf>
Place-Names of Northumberland & England
Items marked * are currently the best authorities on Northumberland place-names.
Beckensall, Stan (2006), Place names and field names of Northumberland (Stroud: Tempus) [Important collection of field-names. Place-names based mainly on Mawer 1920 and Ekwall 1960]
Cameron, Kenneth (1996),  English Place-Names. Revised edn (London: Batsford)
Carroll, J. and D. N. Parsons (eds), (2013), Perceptions of Place. Twenty-First-Century Interpretations of English Place-Name Studies (Nottingham: EPNS)
Cavill, Paul (2018), A New Dictionary of English Field-Names (Nottingham: EPNS)
DSEPN — Digital Survey of English Place-Names <https://epns.nottingham.ac.uk/> [login may  be required]
*Ekwall, Eilert (1960), Concise Oxford Dictionary of English Place-Names, 4th edn (Oxford: Clarendon)
EPNS — English Place-Name Society / Survey
Gelling, Margaret and Ann Cole (2000), The Landscape of Place-Names (Stamford: Tyas)
Gelling, Margaret (1997), Signposts to the Past: Place-Names and the History of England, 4th edn (Chichester: Phillimore)
Mills, A. D. (2011), Oxford Dictionary of British Place-Names (Oxford: OUP)
*Mawer, Allen (1920), The Place-Names of Northumberland & Durham (Cambridge: CUP) [Dated but still invaluable for early spellings and, with caution, etymologies]  <https://archive.org/details/placenamesofnort00mawerich/page/n8/mode/2up>
Smith, A. H. (1956), English Place-Name Elements. EPNS 25-6 (Cambridge: CUP)
*Watts, Victor (2004), The Cambridge Dictionary of Place-Names (Cambridge: CUP) [Best single source for English place-names]
Whaley, Diana (in preparation), A Dictionary of Northumberland Place-Names (Nottingham: EPNS)
History of Northumberland
Atkinson, Frank (1989), Victorian Britain: the North East (Newton Abbot: David & Charles)
McCord, Norman & D. J. Rowe (eds) (1971), Northumberland and Durham in the Nineteenth Century (Newcastle upon Tyne: Graham)
Hepple, Leslie A. (1976), A History of Northumberland and Newcastle upon Tyne (London: Phillimore)
Hodgson, John C. & John Hodgson Hinde (1820-58), A History of Northumberland, 3 parts, 7 vols (Newcastle upon Tyne: Walker)
Jackson, Dan (2019), The Northumbrians (London: Hurst)
Keys to the Past — <http://www.keystothepast.info/Pages/pgSearch.aspx>
Northumberland County History Committee (1893-1940), History of Northumberland, 15 vols (Newcastle upon Tyne: Reid)
Pevsner, Nikolaus, Ian M. Richmond et al. (2002), The Buildings of England: Northumberland, 2nd edn (New Haven & London: Yale UP)
Contact us